We believe that cocoa is a precious gift from nature, and use only the finest, sustainably grown cocoa beans. It takes our dedicated farmers five seasons to plant, nurture and harvest our cocoa, and the natural fruity and floral flavours inspire us to be innovative and bold in creating the most delicious chocolate collections.
Our passion for quality is evident in all aspects of our chocolate crafting process, right through to packaging and presentation. Every step is a labour of love, and we take great delight in creating delicious, high-quality chocolate for everyone to enjoy.
Caring for our Environment
It starts with us – together we share the responsibility for our future. Our choices today set the course for the world we will inhabit tomorrow, and that's why we pay a little extra for each kilo of chocolate, which directly helps to reforest cocoa-growing regions of Colombia, ensuring that this precious crop can be grown and enjoyed by future generations.
We are proud of the steps we've taken to create a more sustainable future for chocolate lovers everywhere, but also recognise there is much more to be done. Our commitment to sustainability is reflected in our recyclable packaging across our collections.
Respecting People & Communities
We're proud to continue the British chocolate making heritage, with our team handcrafting chocolates using only superior, carefully sourced ingredients – creating new flavours in tune with the changing seasons.
We continue to support two local organisations, which help those who are marginalised and facing employment barriers, by providing valuable training, support, and paid job opportunities.
Our commitment to quality and community is something we take seriously as we strive to make a positive impact in all we do.
Choc Affair is committed to minimising our impact on the environment, sustainability and enhancing the communities we are a part of.
Making Chocolate by Hand Since 2006
For us, making chocolate is a family affair and hand-crafting remains the only way we do things. After being carefully harvested, selected, fermented and dried in the sun close to the fields it grew in, our single-origin cocoa journeys across the ocean to our chocolate HQ in historic York where it's transformed into our famously smooth chocolate, then tempered for the perfect snap, packaged at source and delivered straight to you.
By purchasing every part of our packaging from British companies, we help support the success and growth of other UK industries. Buying less expensive packaging from overseas might save a bit of money, but it's just not how we do things.
Supporting Good Causes at Home
Locally, we support the Blueberry Academy, which helps young adults with learning differences become more independent and learn life-enriching skills that might not otherwise be open to them.
Caring For Our Environment
Proudly Palm Oil Free
Palm tree oil is used by many mass-produced brands as a cheap alternative to natural cocoa butter, but according to the World Wildlife Fund, it's also responsible for the loss of an incredible 300 football fields of rainforest every hour. All of our chocolate is guaranteed palm oil free – a tiny contribution, but one that's well worth doing. Read more about our reasons for being palm oil free.
Sustainably Sourced Cocoa
All of our cocoa is responsibly and sustainably produced, with a little extra paid for every kilo to help reforest the cocoa-growing regions of Colombia. By ensuring a well-balanced replenishment of everything we take out of the earth we help guarantee a healthy world that still has chocolate in it.
Waste Reduction
Single-use PET plastics are commonly used in food packaging , but we've made it our mission to divert as much waste like this as possible away from landfill. So far, we've eliminated 98% of the Plastics used in our ranges, with a plan to remove it all now that more sustainable alternatives have become available.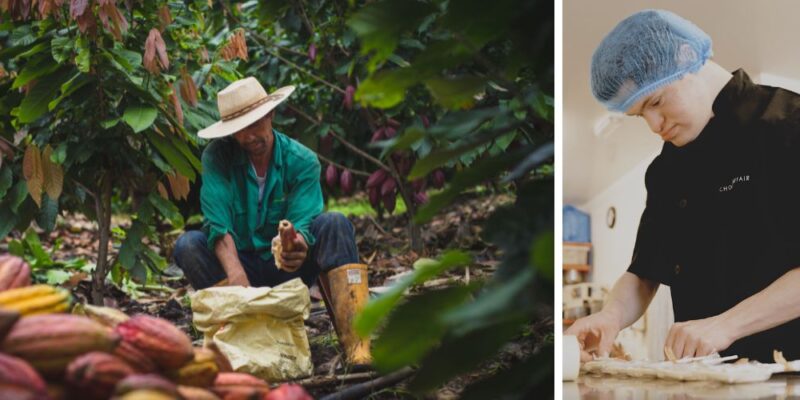 Respecting People & Communities
Respecting People and Communities
At every stage of its journey from bean to bar, we want our chocolate to have a positive impact, which is why all of our cocoa comes from family-owned companies just like ours. By supporting small farms and local co-operatives and giving them a sense of ownership and pride in the finished product, we help ensure that the profits stay where they're needed the most.
We also help and support the community by asking them what they need to make life better and then figure out how to make it happen. This includes partnering with the ASOPECA agricultural cooperative to help local farmers buy more land, contributing to a new cocoa fermentation system, or supporting them with job training for seventy young adults. Other times, the solutions might be small but can make a huge difference, like providing donkeys for children who live further away so that they can reach school more easily across challenging terrain.
We couldn't do any of this without the people who buy our chocolate – and by doing so, make an investment in the future of people both at home and in a cocoa growing community in Colombia.