If you're ever struggling for that perfect gift, regardless if it's for a friend, family member, work colleague… or even for yourself, we've got the perfect gift which is personal and thoughtful, giving that special person a new experience or a reminder of a flavour they absolutely adore.
As you may remember, Andy (founder of Ainsty Ale's) came to the Choc affair factory to do a pairing session with us. We all sat down together pairing the Andy's Ainsty Ale's with our delicious Choc affair chocolate. It was the perfect way to spend a sunny afternoon.
During all of our "hard research", we all wrote notes, and together we decided which ales went with which of our flavoured chocolate bars. Our aim of the day, was to find the perfect balance between Ale and chocolate, not one taking over the other, but the combination of flavour, and strength. So here are our findings, we hope you find them inspirational…
Ainsty Ales
Flummoxed Farmer; A 4% blonde ale.
A light, citrus, dry and very refreshing ale. A light Blonde Ale with a Grapefruit and Tropical nose, giving a refreshing and slightly Hoppy, dry finish.
Wankled Waggoner: A 4.5% golden ale
A golden, fruity, hoppy ale with a gentle Malt finish. A Golden Ale with a sweet nose, giving a good balance of Malt and Hop character, delivering a slightly bitter finish.
Choc affair Chocolate (in order of appearance)
Single Origin Collection
Flavoured Bar Collection

An Ainsty affair
Firstly we began pairing our single origins bar range with the Flummoxed Farmer (Pale ale) and Wankled Waggoner (Golden ale). We all thought these would be the perfect pairings, as the single origin range have such a unique flavour, with an underlying taste of fruit, similar to the Flummoxed Farmer and Wankled Waggoner ales.
The Venezuelan 43% known as a dark milk came out as the best match. This was in part due to it's depth of flavour, softened by the fact it is a milk chocolate, so there is no bitter after taste. It complemented well the Wankled Waggoner but was a softer, smoother taste with the Flummoxed Farmer.
The Colombian 33% although fruity and delicious as a chocolate, when paired lacked the strength of flavour to offset the sharpness of the citrus flavour in the Flummoxed Farmer. The Wankled Waggoner was too overpowering, leaving no taste of the Colombian 33% at all. Although enjoyable, it wasn't what we were looking for; a perfect balance of flavours.
We all found the Colombian Huila 65% and Ecuadorian 71% bars to be too bitter and overpowering for the delicate flavours of the Ales, so this was a surprising no when it came to the pairing.
Next we moved onto pairing Ainsty Ale's with our flavoured bar range, starting with our Orange & Geranium bar. We chose this flavour as the bar has the same citrus and fruity notes as in the Ales, and the combination proved exceptional in both the Flummoxed Farmer and Wankled Waggoner. The overall result was of perfect balance and clarity of flavours, a light and refreshing finish. It was a personal choice between the group of which one ale was the best, but everyone absolutely loved this pairing.
Our Raspberry and Rose followed due to similar notes, and also proved to be popular, although the balance was not as strong as with the Orange & Geranium.
It's a wonderful combination if you enjoy a sweet floral taste, followed by a subtle fruity tone within the Wankled Waggoner.
Caramel had to come next, followed closely by the Salted Caramel, and this proved to be interesting pair with our female and male tasters.
The smooth, creamy Caramel was a real hit with the ladies, and they said it provided a delightful balance, and once the Ale hit the palette, the caramel turned almost toffee like. It held a hint of a festive treat, and the promise of something more, hmmm. The favourite ale with the Caramel with the Flummoxed Farmer as it created a sweeter hint of toffee on the tongue.
For the guys the Salted Caramel was the lead, as it hit the bitter, sweet and salt tastebuds all at the same time, creating a fusion of flavours which were in true harmony to both Ainsty Ale's.
The outsider though, came in towards the end, when we opened the Dark Lime and Sea Salt bar. Wow, this one took Andy from Ainsty by surprise! All of us from the factory knew that this combination of flavours worked a treat but we were not expecting it to be a good combo with either  ale, but felt it needed trying, and oh how wrong we were.
The consensus though, was it's hard to explain how and why it works, but in a strange kind of way it does. Even Lou, who doesn't like dark chocolate (and had never tasted the Lime and seasalt bar)  loved this pairing.
We finished, as you'd maybe expect on the chilli, and although it did work with the ales, the chocolate left a lingering sense of chilli on the tongue which then detracted from the smoothness of the Ale.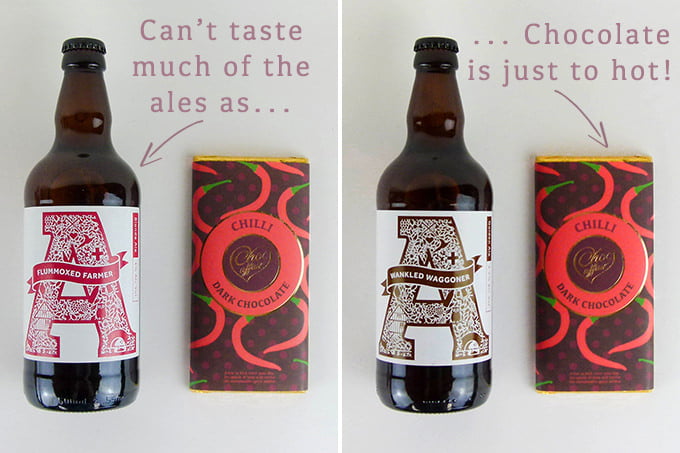 So, you may be wondering about the overall placing of these flavours, well here goes:

Orange & Geranium, and the Lime & Sea Salt were the outright winning combinations with both the Flummoxed Farmer (Pale ale) and Wankled Waggoner (Golden ale).
Raspberry and Rose, and the Salted Caramel were a close second, again with the Flummoxed Farmer (Pale ale) and Wankled Waggoner (Golden ale).
Sadly, our single origins, which we all had thought would be a deserving winner, didn't work in the same way as the above flavours did, even though they are all still incredibly pleasant to enjoy with Ainsty Ale's range, we we're seeking the perfect balance of ale and chocolate flavours, and I think we've definitely found it!
Interesting, and just goes to show, you need to give it a try, as you maybe pleasantly surprised!
To try out any of these delicious combinations of ale and chocolate, you can purchase our Yorkshire Lad Hamper which includes 7 bars and 2 ales, or you can buy the bars and ales separately. Visit Ainsty Ales on their facebook to place your ale order, and visit out bars page to place your chocolate orders.
You will not be disappointed!