If you haven't heard of Sinterklaas, don't worry, you're not alone. This jolly Dutch holiday figure is relatively unknown in the UK.
Sinterklaas is a traditional Dutch holiday celebrated on December 5th. The holiday is named after Saint Nicholas and celebrates his life and work. Traditionally, Sinterklaas would bring gifts to children on the eve of his feast day, December 6th. These days, the holiday is celebrated with parades, parties, and gift-giving.
The history of Sinterklaas
Sinterklaas has been celebrated in the Netherlands for centuries. The holiday was first mentioned in written records dating back to the 1500s, but it is believed to have been celebrated even earlier than that.
The celebration of Sinterklaas slowly evolved over the years, taking on aspects from other holidays such as Christmas and Halloween. The figure of Sinterklaas himself has also changed over time, starting as a stern bishop and transforming into the jolly, gift-giving figure we know today.
Sinterklaas traditions
One of the main traditions of Sinterklaas is the exchange of gifts. Gifts are usually given on the evening of December 5th, with some families exchanging gifts on both the 5th and 6th. Children leave out their shoes for Sinterklaas to fill with small presents, chocolate and sweets, much like leaving out stockings for Santa Claus on Christmas Eve.
Christmas carols are also often sung during Sinterklaas celebrations, with traditional songs being adapted to include references to Sinterklaas. In addition, many families also exchange chocolate letters or poems that describe the gift recipient and their personality.
Traditional foods associated with Sinterklaas
Like many holidays, food plays a big role in Sinterklaas celebrations. Traditional treats include pepernoten (spiced cookies), as shown in the image below, banketletter (almond paste filled pastry letters), and speculaas (spiced shortbread cookies).
Modern takes on celebrating Sinterklaas
While the traditional Sinterklaas celebrations are still popular, many modern Dutch families have started to incorporate aspects of Christmas into their holiday traditions. This includes decorating Christmas trees, exchanging larger gifts, and even celebrating Santa Claus along with Sinterklaas.
However, no matter how they choose to celebrate, the spirit of gift-giving and spending time with loved ones remains at the heart of the holiday.
Sinterklaas parades are a highlight for many Dutch families, with children eagerly awaiting the arrival of Sinterklaas and his Zwarte Piet helpers on boats or horse-drawn floats. The festivities often include traditional Dutch songs and sweets being handed out to excited onlookers. It's a time for celebration and bringing communities together to soak in the joy and magic.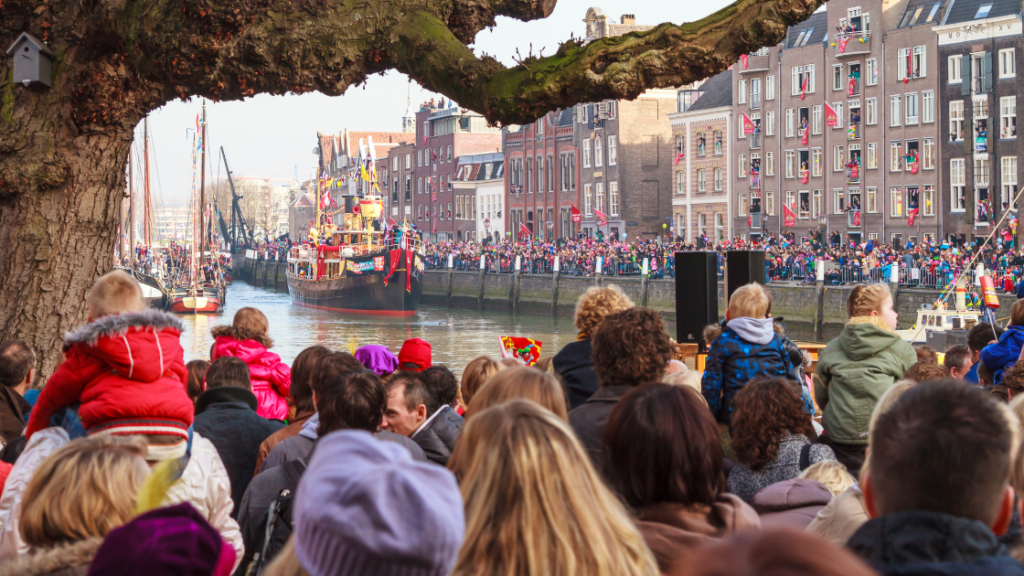 In Summary
Sinterklaas is a fun and festive holiday steeped in tradition. From exchanging gifts and singing songs to enjoying delicious treats, it's a joyous celebration that brings families and friends together.
Though modern celebrations may vary, the spirit of gift-giving and togetherness remains at the heart of this beloved holiday.
So there you have it – everything you need to know about Sinterklaas! Will you be celebrating this year?