Two of our team members, James & Richard, recently flew out to Colombia to see all of the work that is currently going on out there within the cocoa industry. Our cocoa beans are grown in Colombia, and we work with our supplier to financially support projects within the communities which so far has included: a fermentation station, children's school kits, and an inspirational school donkey project.
Monday 6th May
Luker Factory Tour and Chocolate Tasting
Tuesday 7th May
Tour of Granja Luker (Luker Chocolates research/development and education facility)
Tour of a Coffee plantation linked to the Luker family
Wednesday 8th May
Tour of Luker's Cacao farm in Necocli
Introduction in to the Chocolate Dream
Witnessed a traditional tribal Cacao ritual
Thursday 9th May
Schools Visits
Visit to the village of Caribia
Experienced the Luker sponsored entrepreneur schemes
How James & Richard found the trip…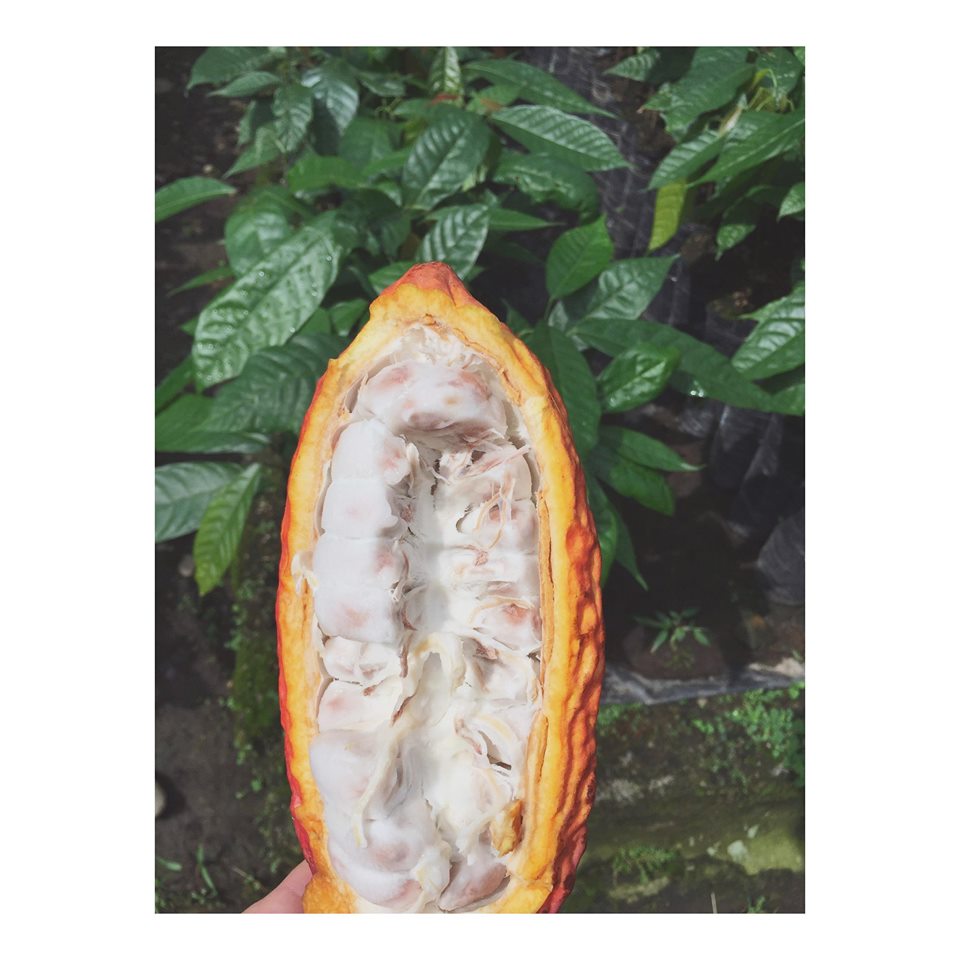 The inside of a cocoa pod.
"An amazing experience and opportunity; it was a packed itinerary including two internal flights to different parts of Colombia. We were shown around Luker's fantastic factory and research facility, Granja Luker, and their incredible cocoa forrest at Necocli. As far as the eyes could see, there were cocoa trees.  I gained so much knowledge in the production of chocolate and the process from Bean to Bar! The real highlight of the trip for me started with the introduction of the Chocolate Dream; this is where Luker (with it's partners (like us) works within the community on various projects. One of which I was particularly taken with was the entrepreneur tourism scheme, an assisted scheme to get young people to start their own business, and give them employment in something they really want to do and have passion for. I then had the privilege of visiting two local schools, and spending time with the children who were ever so excited to see us, it was a joy. The whole trip has opened my eyes to see the incredible projects that are in progress, the positive effects of those that have been completed and the difference they've made within these cocoa communities. There is still so much to be done though, especially with the local teenagers and their employment opportunities, and I am excited to think that we are an ongoing part of that through our partnering with the Chocolate Dream."
James
" During our recent visit to Colombia, it was incredible to be able to see first-hand the virtues that our supplier, Luker Chocolate, promote.
One of the key reasons for choosing to use Colombian chocolate for me is in the quality of the cocoa beans; Luker only use those with the classification of Fino de Aroma (fine flavour) – only 8% of the global cocoa production is awarded this denomination, and the vast majority of it is grown in South America. It is an incredible tasting product that needs minimal processing and keeps a lot of its natural properties.
I was also fascinated to learn about the difference it can have on farmers, families and communities by having cocoa production in the area, but furthermore the difference it can have by actually making chocolate at source – the opportunities it creates are amazing, and along with support from Luker Chocolate and the Luker Foundation, can completely transform the areas in which they operate."
Richard
Make sure you keep an eye out for more exciting news in our partnership with Colombia!
85% Colombia Dark Chocolate
This 85 percent dark chocolate has a clearly defined aroma, and embodies the strong traits of a typical Colombian cacao. It's bitter taste, accompanied by fruity, floral tones, and smooth hint of sweetness, captures the exquisite character of a Colombian dark chocolate.