Easter hunts, special church services and chocolate moulded eggs are commonly associated with Easter.
Each year, approximately, 80 million chocolate shaped eggs are sold in the UK, with 8,000 tonnes of egg-cessive waste being sent to the landfill. Easter egg waste can have a long-lasting impact on the environment, however, with more people looking to improve the planet for future generations to enjoy, it can be a challenge to find chocolate alternatives that are ethical, value-driven and environmentally conscious.
How to find environmentally friendly Easter chocolate
In essence, environmentally friendly chocolate means that nothing is put at a disadvantage throughout the chocolate journey process, whether that be the wildlife that lives in cocoa forests, or the recyclable packaging used to send out boxes of chocolate happiness.
Identifying environmentally friendly chocolate, initially can seem daunting, however, here are some of our top tips on ways you can spot planet conscious confectionery:
Are transparent about where they source their cocoa from
Have a direct connection to the cocoa farmers
Chocolate that has been manufactured by the company that you are buying it from
Support cocoa farming communities and environmental projects
Products come in recyclable packaging
How is Choc Affair's chocolate environmentally friendly?
We are incredibly proud of our ethics, values and commitment to respecting people and the environment.
We purchase all of our chocolate directly from Luker based in Colombia using the trading fairly model. The trading fairly model ensures that everyone receives a fair wage for their work, this prevents people from going into crisis mode to survive, resulting in the balance between humans and nature being sustained.
Additionally, we also pay a voluntarily annual premium so that through Luker's Chocolate Dream project they can invest in community work in rural cocoa farming communities, refining their sustainable cocoa farming practices as well as continuing to improve the environment. Our recent voluntarily annual premium has gone towards supporting the reforestation project in Necoci in Colombia which you can find out more about by clicking here.
As an independent chocolate manufacturer based in historic York, North Yorkshire, having Luker as our sole chocolate supplier not only means that we are reducing our carbon footprint, but it also allows us to build a more meaningful relationship with them so that we can do good together through chocolate creation, community engagement as well as levelling up biodiversity in Colombia.
On a more localised level, here in York, we adopted the four day working week in January 2022 which has improved productivity in the chocolate workshop and are proud to be a living wage and inclusive employer with the latter resulting in us receiving the Socially Responsible Business of the Year award in 2021.
All of the materials we use to pack our products are sourced locally to York and are fully recyclable by the curb side minus the hot chocolate pouches which are recyclable at your local supermarket. We are currently working on this to ensure our pouches can be recycled by the curb side soon, please bear with us whilst we work on this.
On a final note, our founder, Linda and one of her daughters, Mariah, last year founded Chocolate & Co – a not-for-profit enterprise that provides a sustained period of employment for ex-offenders and those struggling with addiction. Although small in size, supporting Chocolate & Co by providing them with drinking chocolate buttons available in dark, milk, white and oat m!lk varieties means they can sell the products at markets and on their online shop so that they can support disadvantaged people within our communities. The result of this has led ex-offenders and those struggling with addiction to take positive steps forward within their lives including securing long-term permanent employment of their own. The beauty of being part of this initiative is that it is creating happier people which results in a healthier planet!
Environmentally Friendly Chocolate that we'd recommend for Easter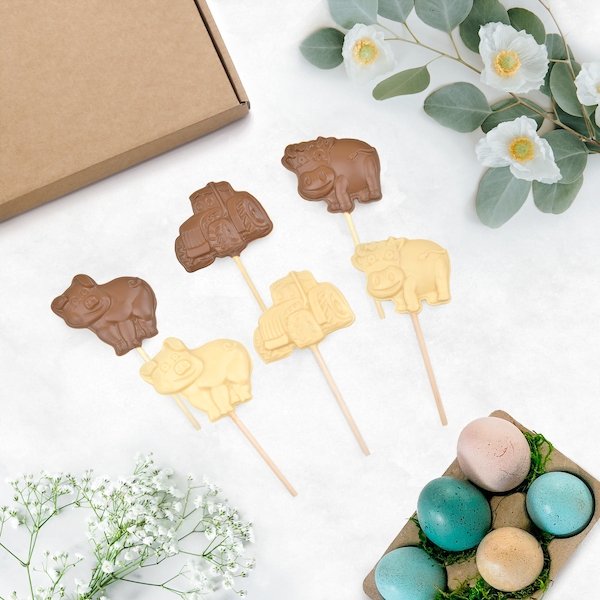 Farmyard Chocolate Lolly Frenzy
A great treat to send in the post this makes the perfect letterbox giftset.
Sustainably grown chocolate
Palm oil free & all natural ingredients
Suitable for Vegetarians
Proudly made in York, North Yorkshire
Oat M!lk Chocolate Bar Giftset
Tuck into our delicious range of plant-based chocolates, ideal for gifting to a loved one or to yourself.
Sustainably grown chocolate.
Palm oil free & all natural ingredients.
Recyclable packaging.
Registered with The Vegan Society.
Gin Collection Letterbox Gift
Enjoy all 4 of our gin flavoured chocolates in this letterbox-friendly collection.
Sustainably grown chocolate.
Palm oil free & all natural ingredients.
Recyclable packaging.
Proudly made in York, North Yorkshire.
Suitable for Vegetarians and our dark chocolate is registered with The Vegan Society.
Classic Collection Chocolate Letterbox Selection
Simple, classic and utterly delicious, you can enjoy our exquisite Colombian chocolate delivered through your door.
Sustainably grown chocolate
Palm oil free & all natural ingredients
Recyclable packaging
Suitable for Vegetarians. Dark chocolate is vegan
Proudly made in York, North Yorkshire
We hope you have found this blog post useful! If you would like to find out more about our work click here, alternatively find us on social media at Facebook, Instagram, LinkedIn and Twitter.