The Royal Wedding is almost upon us, and we simply cannot wait to see what unique wedding favours Harry and Meghan choose for their guests. Wedding favours have become a vital part of the day itself, as they are so much more than a table decoration; they are a personal thank you from the happy couple themselves. In the midst of the Royal Wedding, we have launched our brand new collection of handmade wedding favours that are the perfect gift for wedding guests, and will certainly be within your budget.
Luxury Wedding Favour Tin
When you purchase your wedding favours, it can often be difficult to store them in a safe place – so we have created something very different that will keep all your favours in one place. Unique in itself, this beautiful keepsake tin is filled with 100 mini chocolate bars, flavoured with our luxurious salted caramel; each delicately handmade and individually wrapped by hand. You can simply use the tin as storage and disperse your favours on the day; or you could even use the tin on the day, whereby guests can take a mini chocolate bar for themselves. We have made sure that the tin looks the part by adding a beautifully designed label that perfectly matches the chocolate bars themselves. For that extra special touch, you can choose to have personalised wedding favours for your big day; take a look at our bespoke version here, and have your very own names and wedding date on your wedding favours!
Chocolate Truffles
Keepsake wedding favours are becoming more and more popular, as wedding guests can take something home after the big day as a reminder of the happy couple and the celebration they've been part of. With our delightful truffle tins, guests can nibble on something delicious, AND take home a lovely little tin that they can re-use to put in whatever they wish! We love creating sustainable products, and with these tins, there would be no need to worry about throwing away the wrapper. These melt in the mouth truffles are available in milk or dark chocolate.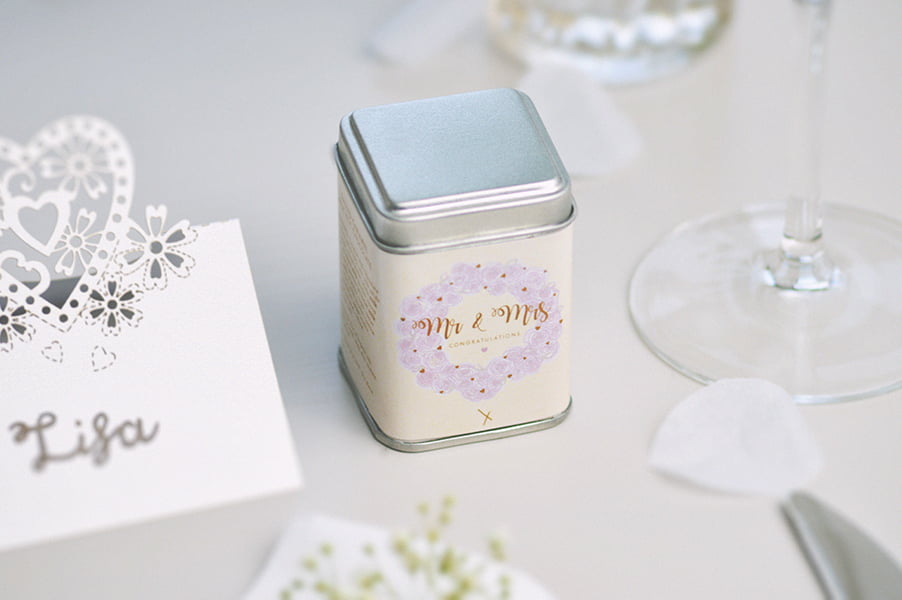 Hot Chocolate Tins
Inspired by our popular one shots hot chocolates, these beautiful tins have been created with a unique wedding in mind. Each tin is filled with our extremely popular salted caramel drinking chocolate; guests can simply add the flakes to hot milk for an indulgent drinking experience. These wedding favours are a delightful treat for guests to take home, and really add an attractive element to your tables!
Chocolate Hearts
It can often be difficult to find wedding favours on a budget; but our range certainly caters for all, as these simple but effective handmade chocolate hearts are delicious AND affordable wedding favours! Available in foil colours of light pink, dark pink, gold and silver; there is something for everyone, and they really do brighten up the setting.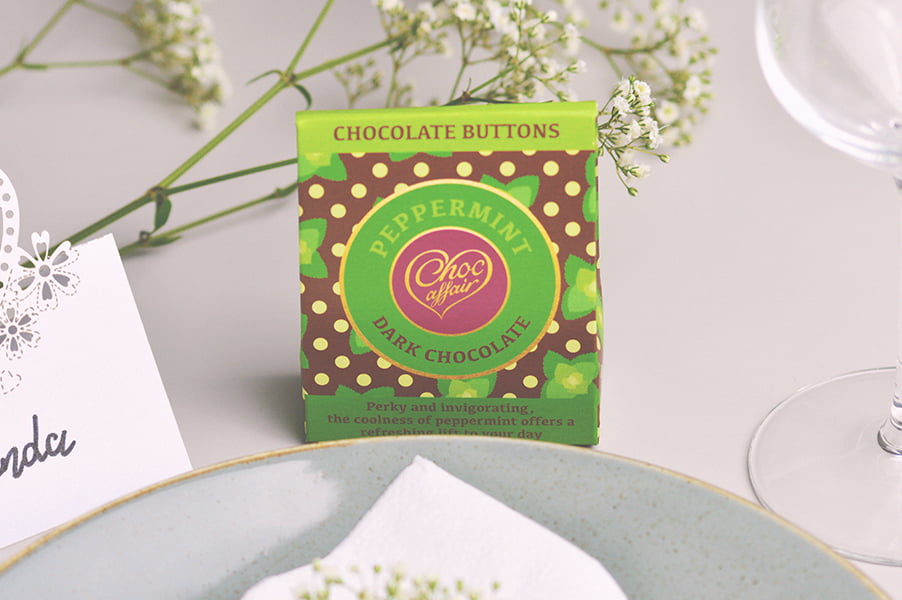 Chocolate Buttons
Who doesn't love chocolate buttons? Especially when they are infused with unique flavours that will tantalise your tastebuds… You can purchase any of our flavoured chocolate buttons as wedding favours, as we know they are a popular choice! Our chocolate buttons arrive in their own little box, with each individual chocolate button embossed with a Choc affair heart – ideal for your day of romance.
We are super excited for the Royal wedding, and cannot wait to see what the future holds for Harry & Meghan; but we of course would love to be a part of your special day too! If you would like any further information on our Wedding favours please do give us a call on 01904 541541, or pop us an email at customerservice@choc-affair.com – we would LOVE to hear from you! If you already know what you would like, then you can find the whole collection here on our website.