None of us would wish to place cheap wedding favours on our guests place settings; but we know when your budget for the big day is being spent in so many directions, wedding favours can be the last thing on your list when it comes to affordability –  and depending on the number of guests you're inviting, the cost can creep up to be a rather large addition. It may be that you choose not to have wedding favours at all; but if you are taking the more traditional approach, fear not – we've found a few ideas that won't break the bank and will allow you have a nice choice of inexpensive wedding favours for your place settings.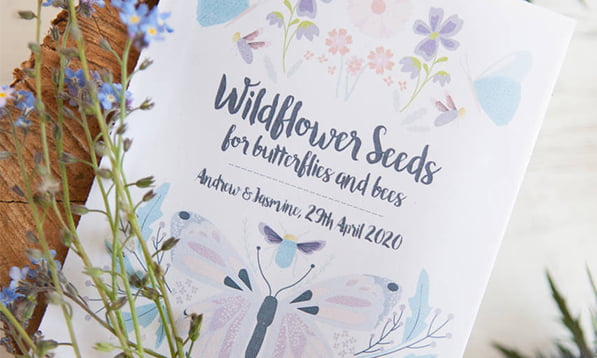 Wildflower Seeds
These little packets are a lovely gift for those who are looking for a more natural favour to give. Each packet contains a mix of native wildflower seeds including cornflower and poppy, to look pretty and attract the butterflies and bees (who love their nectar), making unique and special gifts for £1.20 each.
Wedding Day Yankee Candle
A nice little favour, this floral fragrance is brimming with class and bridal elegance from Yankee Candle; a soothing blend of florals and subtle fruits that will be appreciated by your guests. They may even choose to light up your evening reception with a delicate, sweet smelling candlelit atmosphere – available from 80p each.
Vintage Key Bottle Opener
A vintage key metal bottle opener keyring is a brilliant keepsake for your guests, and works especially well if you are having your own bar. With lots of choice of designs, there's bound to be one that reflects your personality – from 45p each.
British Heart Foundation Badges
By buying these British Heart Foundation Badges, you know you are donating to a charitable cause and all the terrific work they do; and what guest could not be delighted to be part of that? All you need to do is pin a badge to the place card and leave it as a lovely surprise at your guests' table place – from £1.50 each.
Foiled Chocolate Hearts
These favours are obviously close to our hearts (excuse the pun); handmade, creamy milk chocolate hearts wrapped in a delicate gold foil; making a lovely delicate wedding favour. Add bit of glamour on your tables with a choice of coloured foils; sure to offset the rest of your wedding theme. Available for £1.00 each.
Sparklers
What wedding is complete without a whole lot of sparkle? These indoor sparklers will create the perfect amount of bedazzle to your big day. You can have a lovely note on each table asking your guests to light them at the start of your first dance – or for your send off!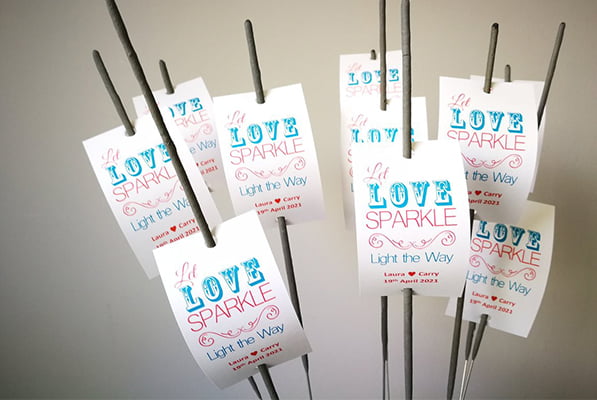 Please note that at the time of writing this blog, all these lovely favours were available on the corresponding websites at the prices stated.