The Choc affair journey started in 2006 when my daughters were both young, and we realised they had an intolerance to milk. Alternative diets were not as widely recognised then as they are now; and there were few options available for the girls. So, with a little creativity, lots of soya milk, dark chocolate, and raw sugar, I made them a hot chocolate they loved. I had a feeling there could be a business idea here, and so explored the idea with a designer; and the concept of our hot chocolate on a stick was born.
Due to launch in February, I contacted the chocolatier who was due to produce for me, to then be told he was off during the month of January – so wouldn't be making me any samples. This was to be our first pivotal moment in the business, and with no samples, there could be no launch; so, there was nothing else to do other than buy a mini chocolate machine, a box of chocolate courveture, and after reading the instruction book, have a go.
Armed with my first batch of samples, my first sales appointment was on my way to my real job; and as I walked into the deli to meet the buyer, I slipped on the tiles and he had to catch me – making a memorable start to what has been a friendship that has spanned the last 12 years.
For the first two years, whilst building the business, I maintained my day job; working early mornings and late nights, with my husband and family members drafted in to help. The whole house was overtaken by chocolate packaging; the smell of chocolate pervading throughout (not a bad thing); until we decided it was time to convert the garage into a small chocolate production unit.
Three years in, I realised that passion alone wasn't going to be enough. My work-life balance was all upside down, and my husband and I both had jobs, the children, and the chocolate. Life was hectic to say the least! Redundancy from my job was the first hint of blue sky; and then, my brother-in-law decided he wanted to come into the business to work alongside me. We rented an old joinery workshop premises over the road, converted it into a production unit, bought some bigger chocolate machines, and took on a small team. After that, things really started to grow.
A further move in 2013 to a bigger premises was a major risk for a small business, and it took a couple of years to get back onto even ground; but we got there and it enabled us to create our fantastic range of chocolate. Today, we are a team of 23 people, from 18 to 75 years in age, all working hard to create great tasting chocolate. It's been a crazy few years, with many ups and downs. We've made our fair share of mistakes – but I can honestly say our biggest learnings come from those errors, after which we talk it through, and then move on to do things better next time.
At times I've hung in by my fingertips when the pressure has been so great: working 70-hour weeks with your husband and brother-in-law can be challenging, but I wouldn't change a thing! Every morning, getting up and looking forward to the day ahead, being surrounded by great people who care about what they do; it's really inspiring. I really do know just how fortunate I am to feel that way.
We're often asked what we are aiming for. The answer is simply to be part of something which is more than just making great tasting chocolate – it's about playing a part in doing good things through business, from the sustainability of the chocolate and packaging we source, to our inclusive employment initiative. Often, it is the small things that can make the biggest differences; and I try to remind myself of that at times, as more often than not it is simply small steps, one person at a time; and if I can be a part of that while working with chocolate, what more can I ask for?
2006
Choc Affair was born! Linda made her first hot chocolate stirrer back in her kitchen.
2007
Small chocolate bars and sweet topped lollies were introduced into the Choc Affair range.
2008
We got our first company van, and put a huge image on the back of it of Linda & Ian's children eating lollies; they were horrified when they saw it!
2009
Linda's brother-in-law, Ian, joined the business. This also marked the year that we took on a new premises, and a small team!
2010
In 2010, we started a relationship with the local probation team, employing probation service users so that they could start afresh in a new workplace.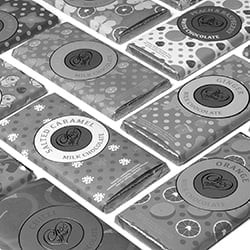 2011
Our signature range of flavour infused bars were launched and had an incredible impact.
2012
In 2012, we launched our iconic chocolate cupcakes, which we hand delivered around the UK.
2013
Linda visited Colombia, and started our relationship with the cocoa farmers. 2013 was also the year that we moved into our new, larger premises!
2014
2014 was the year that we invested in our first 75kg tempering machines and melting tank.
2015
Our work with The Blueberry Academy and Changing Lives began in 2015.
2016
We became a contributing partner in the ICI cocoa initiative, and also took on our first sales executive for the South of the UK!
2017
This year we opened our first Christmas pop up shop in York!
2018
We increased the cocoa solids in our dark chocolate to 60%, and also became vegan certified for our dark chocolate.
2019
Underwent a brand refresh with our modern new look
2020
We made it through the pandemic with the support of our amazing customers.