Our Story
By Linda Barrie, Founder and Chief Taster
There's something soul-satisfying about chocolate – like a miniature holiday for your senses.
The Choc Affair story began in 2006 when I realised that my daughters had an intolerance to milk – a devastating discovery for children who love chocolate. As there were few alternatives available back then, I decided to have a go myself and with a little time and a whole lot of soy milk I created a hot chocolate they loved. While my first little customers were pretty devoted, they also gave me the idea for a business making handmade chocolate. The next step was a dark chocolate stirrer that melted in warm milk to create an instant chocolatey drink – something we still make today. As demand grew – and not just at home – and with my house now permanently smelling of molten chocolate, I gave up my day job to become a full-time chocolatier.
As family members were always being drafted in to help, stir, drive and taste, most of them eventually joined the company and after first converting our garage, we eventually rented an old joinery as our first chocolate HQ. After that, things really started growing and before long we'd moved into our current home in Hazel Court.
As a business, however, we always wanted to do good by the world and create confectionary that came with a clear conscience. That's why every bean we use is responsibly and sustainably produced, with a little extra paid for every kilo to help reforest the cocoa-growing regions of Colombia. It's also why we never use cheap shortcuts like palm oil, and support the small farms and cooperatives we work with and the local community that surrounds them, as well as our own community here in York.
Sixteen years later we're still making handmade chocolate that has a positive impact and we still love doing it. What more could we ask for?
2006
Linda makes her first hot chocolate and Choc Affair was born!
Still 2006
Linda takes her first batch of samples into a deli to meet our first potential buyer. Linda slips on the tiles and has to be caught by him, dramatically starting a friendship that's now spanned sixteen years.
2007
Chocolate bars and lollies are introduced into our new range.
2008
We got our first company van and put an image of Linda's children eating lollies on it. Two children become pretty horrified when they see it.
2009
Another family member, Linda's brother-in-law, Ian, joins the company, Choc Affair moved into an old joinery and expands to include a small team.
2010
We start work with the local probation team helping people start afresh in a new workplace.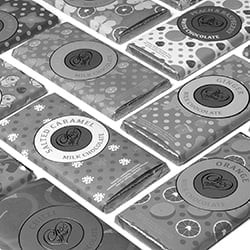 2011
Our signature range of flavour-infused bars is launched to an incredible impact.
2012
The first batch of our iconic chocolate cupcakes are hand delivered around the UK.
2013
We send Linda to Colombia and our relationship with the local cocoa farmers begins. We also move into our new home at Hazel Court.
2014
2014 was the year that we invested in our first 75kg tempering machines and melting tank.
2015
Our work with both the Blueberry Academy and Changing Lives begins.
2016
We become a contributing partner to the ICI cocoa initiative.
2017
We opened our first Christmas pop up shop in York.
2018
We become vegan certified for our 60% cocoa dark chocolate
2019
Underwent a brand refresh with our modern new look
2020
We made it through the pandemic with the support of our amazing customers.
2021
We were delighted to win Socially Responsible Business of The Year.
2022
We launched
our new hot chocolate and button packaging using environmentally-friendly paper pouches that are 100% recyclable at the kerbside. This supports our commitment to being an ethical, green business.
Jan 2023
New year, fresh new look! We launched 2023 with a brand new look and feel. We've taken our classic style and signature colours and added a modern touch of design flair, and came up with something special that we believe better reflects who we are.
Jan 2023
We are proud to have won the Feefo 2023 Platinum Trusted Service Award for excellence in customer service.