This week is the last week for our team members being vegan, and it's definitely been an experience for them! Doing this challenge has opened our eyes to the vegan market, and how we can make our products the best they can be for our vegan friends. You may have even been reading these blogs, thinking 'I actually wonder if I could manage being vegan' – well, our team have given it their best shot, and we think all three of them have been pleasantly surprised – so why not even give it a go in February? Or even just for the week? See how you feel and let us know if you do decide to have a go.
Lisa
My time as a vegan has actually been amazing. It was so much easier than I thought it would be – more so after the first week. I think initially it was difficult, because as you can imagine, a drastic diet change can have an impact on your body! Once I got into the swing of things, everything basically fell into place and I've really just quite naturally accustomed myself to a new way of living.
If I'm being brutally honest – and stop reading now if this is TMI – but I actually have IBS; which I knew was affected by dairy. For a while, I was eating all dairy, but made one change – having lactose free milk. However – I had no idea how much all other dairy in general was affecting me – so once my body got used to no dairy, by IBS has significantly cleared up and I feel so much better in health. I would recommend trying this if you have any sort of dairy intolerance!
My favourite things about being vegan:
Feeling better physically and mentally

Trying foods I never would have tried before, and being amazed at how they can make food taste like meat!

Knowing that I will have reduced the impact on animal cruelty by making better choices
My least favourite things about being vegan:
Missing some of my favourite foods, like eggs and cheese (the alternatives were not for me)

Having to spend a lot more to get a decent bar of vegan milk chocolate (my only favourite milk was galaxy)

The headaches at the beginning
After veganuary, I will certainly be taking a lot forward into my new diet. I'm going to cut back hugely on dairy – although I'm not quite ready to cut back completely on cheese and chocolate just yet; and I'm going to re-introduce eggs, as I have really missed having them for breakfast as they are lower calories and carbs. However – I will be cutting back on meat hugely – it's probably the thing I've missed the least! I'm going to try and have 2-3 vegan meals per week. I'm also now going to only use plant-based milk like oat milk or almond milk. Top tip – I've found that almond milk works far better in a hot chocolate, as it doesn't leave that horrible skin on top if you are waiting for it to cool down a little. It also froths up a lot nicer too! 
My top 5 vegan foods/meals:
Aldi's Mushroom Bolognese mix with smooth tomato sauce & pasta

'Bill's' Mushroom Pudding with Bean Cassoulet

Galaxy Sea Salt & Caramel Milk Chocolate

Homemade Vegan Shepherds Pie

Richmond Meat Free Sausages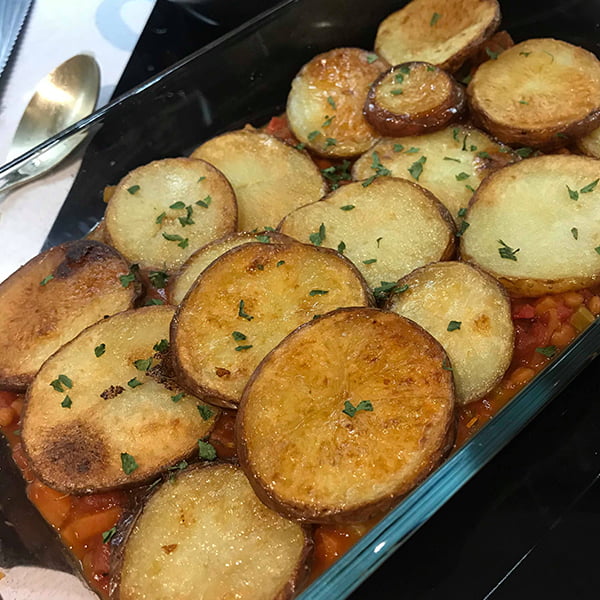 James
So; not a bad final week, but the craving for some Fish or Shellfish has been strong!
I have tried a mushroom and tofu risotto, and vegetable chow mein; 'Heck' also do Green Vegetable  Sausages that are very nice. I also now have a liking for Cous Cous!
So, in conclusion to my Vegan month, I will not be turning Vegan; but my Wife and I are turning Vegetarian! We do not eat red meat, and are happy to trade Chicken to Quorn. The hardest things to give up were eggs and dairy, so happy as a vegetarian I can keep eating these.
Ian
This week I made a vegan banana bread, which was lovely when it came fresh out of the oven warm! It also kept for a good few days so I'd recommend giving this a go. Interestingly I've been to the toilet a lot more frequently – but I feel good and I feel healthy! My favourite meal was a vegetable thai curry – but my worst was probably the vegetable pasta bake. It was just a bit bland for me! From this I'll definitely be having a much more vegetarian based diet; but I must admit, I'll be celebrating with my family's favourite steak pie from the butchers at the weekend.
Results
Lisa – Will be cutting out most dairy products, and eating more vegetarian/vegan meals each week.
James – Will be going vegetarian with his wife once Veganuary has finished
Ian – Will be incorporating a lot more vegetarian/vegan food into his diet moving forward
Linda & Julian – Didn't do the veganuary challenge, but from talks in the office, have decided to make their diet more vegetarian and cut down on meat