Supporting the community far and wide is something that we take pride in at Choc affair. Helping others is at the heart of what we do, and we do everything we can to provide support to others when they most need it.
As part of this support, we are financially supporting The Street Feeding Project, formed by 'Seeds of Hope Uganda'; this is under the umbrella of a registered UK charity called 'Our Father's Heart'. The money that we donate goes towards this project, that aims to provide meals daily to young street children in Uganda.  The following talks about the charity and the work they are doing out in Uganda.
Our Father's Heart
Kumi is a township in Eastern Uganda with a population of approximately 250,000. It's a town with a difficult history as over the years civil war, Karamojong cattle raiders and rebel insurgencies have caused devastation and left their scars on the area and its people. Many died as the Karamojong killed whilst stealing the cattle and many children were left homeless and fatherless.
Over the years the devastation has continued as HIV has taken its toll and across the district parentless children are being brought up by grandparents and other extended family members or even neighbours in their communities. The amazing news is that even with such a history, the sense of hope that pervades the Kumi community is tangible! Touching acts of kindness can be witnessed throughout the community, something we have had the privilege of seeing first hand for ourselves.
Our story began in 2011 when my daughters, sister, niece and I embarked on a trip to Kumi as part of a  team whose task was to build house no. 10 at the COHAD orphanage. As we left Kumi we felt that we needed to do something to show ongoing support for this amazing community and the idea to ask family and friends, to help us by sponsoring children identified as being particularly vulnerable and those without family members became a reality.
With the support we received we were able to employ a local lady as our social worker and manager, for the past 6 years Robinah has worked tirelessly within the community to identify and follow up on the wellbeing of the children we support on our sponsorship scheme.
2016 was a big year for us as we formally registered Seeds of Hope in Kumi as part of the district registration process, yet we still had no official charitable status in the UK. A complex and drawn out process began and in the Autumn of 2017, we achieved registration as a charity here in the UK formally named Our Father's Heart under which Seeds of Hope Uganda operates.
In January of this year we headed out for our annual visit and whilst there we had a sense of urgency that we needed to start working with the street children of Kumi. We had tried to support several of them through re-homing them at the COHAD orphanage, however two of the boys couldn't manage to settle and went back to the streets. When we first set up our sponsorship program in 2011 there were very few street children in Kumi, however it evident that this is a growing problem. The last official audit undertaken in 2015 indicated there were up to 30 boys living on the streets in Kumi, with numbers growing on an annual basis.
We first met some of the street children in 2015 when William and his friends would hang around where we were staying. We shared our evening meals with this little street gang and spent time getting to know their stories. Family history in Kumi is often complex, with extended family members being left to care for children, and even village communities taking in the orphans and bringing them up. In our wisdom we felt it would be beneficial to have the 3 boys who were living rough housed within COHAD, the orphanage we work with in Kumi, and whilst we were there, 3 of the boys were taken to live within a home of 8 children, looked after by a house mum. Sadly the boundaries of living within this community proved too much for William and he made his way back to the streets, sleeping rough and stealing food to survive.
William remained in our hearts and we knew a solution was necessary but didn't really know what that looked like and so we went home having to leave William surviving on the streets.
One of our main tasks for our recent visit was to find William and see how he was faring. So, what to do? but start looking for him! Well we did eventually track William down and I mean track him down, whilst following him down the street in our mini van, shouting his name as he moved ahead on the back of the wagon in front. We must have looked ridiculous as Rachel (one of the charity trustees) climbed half way out of the van window screeching "William come here"!! I do believe the young man driving the wagon realised he better stop and send William to speak to us, as 5 white people in a van following him must have seemed pretty weird, to say the least!
Things progressed quickly during our trip and within 4 days of arriving we ended up renting a house in Kumi to start a feeding program for the street children. William worked alongside us cleaning  and painting it to get it ready. Within the week our house mum Dinah and one of the boys from the orphanage moved in and Robinah, our lovely manager made one of the rooms her office.
So, now Monday to Saturday a hot meal is cooked for the boys, and they arrive in time to eat together. The doors are open between 4pm and 8pm, offering a safe haven for food, friendship and support. Robinah's experience as a social worker allows her to mentor the boys in a nurturing environment, giving them the opportunity to talk, enabling her to further assess their needs. Their clothes are washed as needed and replacement clothes given, discussions of school and skills training take place over food and fellowship and opportunities presented. Visits are now being made to some of the boy's family communities in the hope that, with sponsorship and support, some of these children could return home.
It's a slow process but trust takes time to build and we currently have about 14 boys attending most days, so there's still a lot of work to be done to overcome the suspicion that we are going to try take them off the streets. That isn't our aim, as many of these boys William included are hardened to living life their way on the streets. All we can do is work hard to become a safe place they can seek when they need it and if we can help them reduce the need to steal to survive by feeding them we are helping to lower the risk of them ending up in prison or being badly hurt by the locals.
Our Father's Heart is a small fledgling charity but one with a big heart where every penny raised goes directly into the frontline project. We hope it grows to a point whereby we can get some of these boys into skills training to empower them to earn a living to be in a position to support a family of their own one day. It's not about us changing the world, it's about making a difference one child at a time through supporting Robinah and Dinah, enabling them to spend their time gradually befriending the street children – gaining trust and becoming the safe adult that is missing in the children's lives.
Just as here in the UK, the reasons why any child finds themselves living on the streets are numerous, they often run away or are forced to leave their home due to extreme poverty, violence, abuse and neglect, as well as the difficulties of second marriages and the complexities of the relationships surrounding a step parent. Many find themselves without parents as they succumb to HIV. They find themselves with little option other than to turn to the streets where often the community has little tolerance- if caught stealing the punishment can be extreme.
Where possible the charity will try to strengthen the child's family bonds – which sometimes starts with trying to trace the birth mother and father. If there is a hope of a reconciliation we aim to help the boys back into their family environment. Should the boys choose to go back to school or embark on a skills training this is where our sponsorship scheme comes into place and we then find a sponsor to support the child in school.  Our sponsorship program has been in place for almost 7 years and is working well. We have had 4 young people graduate from the program who have skills and are now employed, and a further 41 are currently being supported with a focus on health and education.
Our Father's Heart will continue to focus on the street project working with Robinah and Dinah in Kumi, in the hope that we see young lives changed for good! We will keep you updated on our progress…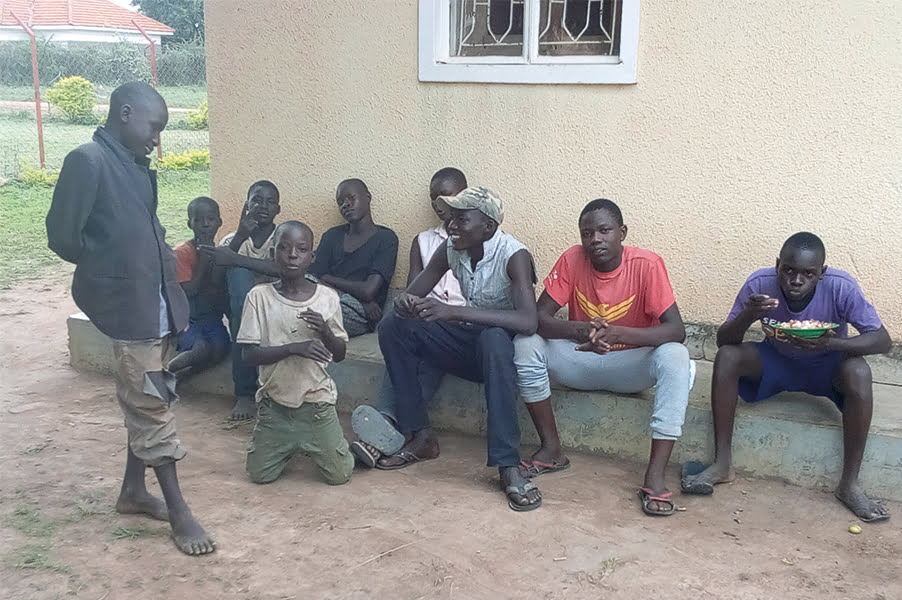 If you would like to find out more, or even make a donation, please visit the Seeds of Hope Facebook page for more information.